Reproflex3 supports R-Cycle in pilot project

February 5 2021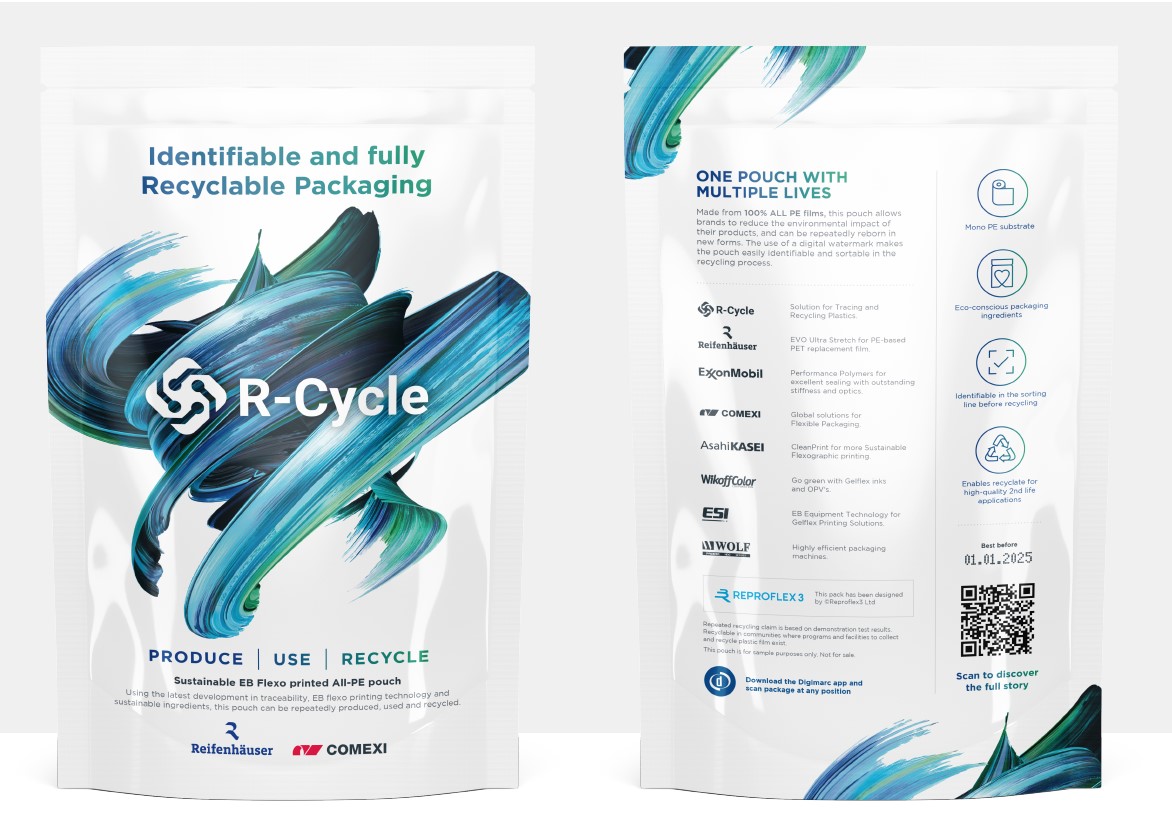 Reifenhäuser Group, experts in plastics extrusion, and COMEXI GROUP, leading supplier of machines for the packaging industry, have utilised the creative expertise of Reproflex3 in a joint R-Cycle project to enable high-quality recycling of flexible mono material pouches.
The R3 team designed a recycle-friendly pouch layout for the R-Cycle pilot.
The design was created on a very stiff PE film with excellent optical properties which was produced on a Reifenhäuser EVO Ultra Stretch blown film line and which is afterwards laminated on a white sealing film.
The main challenge for R3 in designing the recyclable pouch was to create a sophisticated graphic which incorporated key messaging, using as little print area as possible, in order to produce a high-quality and light-coloured recyclable material, that is also fit for re-use as packaging with the same characteristics.
For this reason, the pouch design only contains 30% ink coverage.
Another key design feature is the pouch is digitally connected to store recycling-relevant data on each step of the production journey.
By using a digital watermark within the pouch design, the data can be automatically retrieved throughout the sorting process to clearly identify the packaging for recycling and re-use.
Ralf Wiechmann, Head of Film Innovation at Reifenhäuser Blown Film, who supports and drives R-Cycle, said: "With Reproflex3, we have found a partner for this R-Cycle demo project who not only creates a first-class design, but also understands what is important in sustainable packaging."
The collaboration between Reifenhäuser and COMEXI aims to demonstrate that harnessing the
R-Cycle concept can optimise the recycling process from end-to-end by storing recycling-relevant production data and attaching a clear ID mark on packages.
Andrew Hewitson, R3 Co-Founder explains: "The R-Cycle identifiable and fully recyclable pouch offers great potential for flexible packaging manufacturers and brand owners to support a circular economy through the supply chain by reducing and re-using effectively.
"We are extremely proud to support Reifenhäuser and COMEXI in trialling a new sustainable packaging solution that optimises the recycling process without compromising on graphic reproduction and print quality."