Reflecting on the Future of Flexo

March 3 2023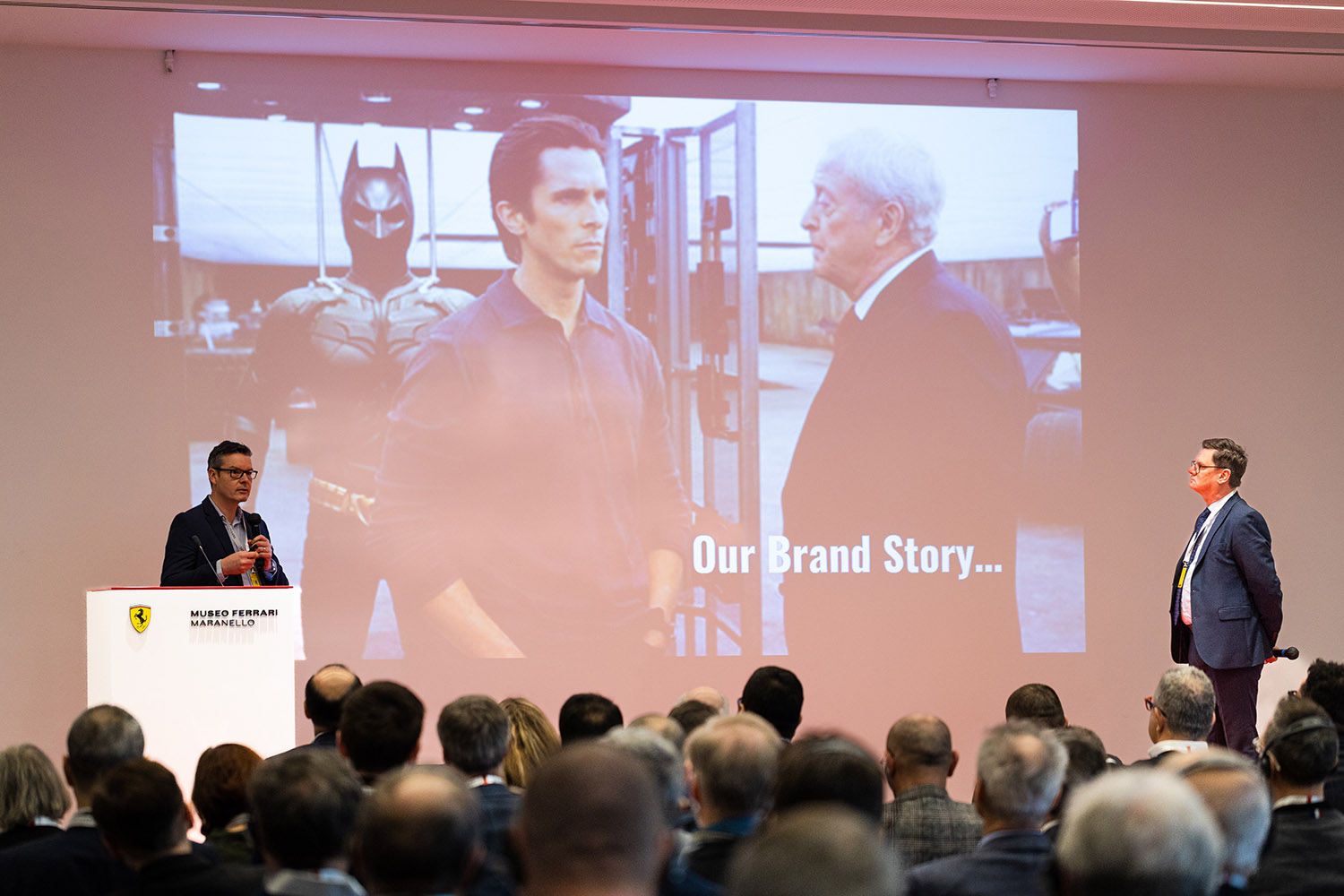 (Left to Right) Andrew Hewitson and Trevor Lowes in Italy presenting ProjectBlue, BlueEdge and Vortex - The Flexo Revolution.
ZDue, Italy's largest flexo platemaker, hosted an exclusive event last week (21 – 23 February 2023) that was dedicated to shaping the future of the flexographic print and packaging industry in Italy, Europe and beyond.
Delivered across three-days, the convention, held at the iconic Ferrari Museum in Maranello, brought together more than four hundred industry representatives from the flexible, corrugated, tissue and label markets, alongside major market retailers and brand owners.
The Future of Flexo event was delivered in collaboration with Reproflex3 – ZDue's international technology partner – I&C Gama Group and Tamburini Srl.
It featured insightful presentations, various case studies and several panel discussions with leading industry figures from manufacturing and converting.
A key focus was new technologies designed to solve issues and pain points currently facing the flexible, corrugated, label and tissue sectors.
This included discussion on new strategies for primary packaging and increased sustainability, capitalising on big data and machine learning, together with maximising new opportunities in the flexo process through pioneering print technologies like ProjectBlue, BlueEdge and Vortex.
Andrew Hewitson, Reproflex3 co-founder and group CEO, explains: "We were honoured to support our friends at ZDue in delivering this ground-breaking event.
"Reproflex3 and ZDue have been working together to deploy new solutions that don't just elevate print quality, they also have the capability to reduce production and operational costs, enhance customer sustainability credentials and realise measurable benefits throughout the entire flexographic process.
"Challenging the status quo, always striving to do our best and better it, investing in technological innovation and developing new and improved ways of working are passions that we share with ZDue.
"They are doing an amazing job maximising the capabilities of ProjectBlue, BlueEdge and Vortex for their clients in Italy and we are here to support them in driving that success. I speak for the global Reproflex3 family when I say that it is extremely refreshing to be part of an open and collaborative partnership that is focused on delivering genuine value for customers."
The final day of the convention was dedicated to the corrugated packaging industry and attracted more than 200 attendees.
Mark Vaus, Reproflex3 technical sales director for corrugate, was in the room.
He said: "During my 35 years working in the packaging industry, I can count on one hand the significant single pieces of innovation that have changed how and what we do in this industry.
"By working in partnership with ZDue to deploy BlueEdge and Vortex, we are now seeing something very special, and for me personally, it will change the current thinking, rules and restrictions when looking at flexographic work.
"These technologies are not restricted solely to post print, they cover all flexo sectors – narrow, medium and wide web. Together with ZDue, we are challenging the current plate to anilox relationship, removing unnecessary barriers to quality print reproduction and working around the perceived limitations of plate screen counts on traditionally higher volume anilox rolls.
"Both BlueEdge and Vortex are designed to help customers write their own rule book. The results these technologies can generate are proven and have already led to ZDue receiving international recognition through the AB Flexo and FIA UK awards.
"We're at the beginning of an exciting journey, where the benefits tick many boxes from production gains, significant quality uplift, overall equipment effectiveness and reductions in expensive dryers on presses, to name a few."
Trevor Lowes, Reproflex3 co-founder and chief operations officer, adds: "I would like to thank Marco Mingozzi, the ZDUE team and their associates for their generous and kind hospitality.
"Reflecting on our time during the convention, one of many things that stood out for me was the energy, passion and enthusiasm. There is a genuine desire to revolutionise the flexo sector and it was rewarding to see Vortex and BlueEdge share such an important and influential platform. It is our intention to continue pushing and innovating to ensure that all our partners and customers have the support they need to keep driving the industry forward."
For more information about the Future of Flexo Convention, visit: http://www.zdue.it/en/cosa-e-stato-il-future-of-flexo/ and watch the video summary here: https://www.youtube.com/watch?v=yntjXEI3Apc
If you would like to find out more about Reproflex3 and our global flexographic pre-press solutions network, please get in touch with a team near you:
Reproflex3 UK and Europe
E: info@reproflex3.com Tel: +44 (0) 1670 715 505.
Reproflex3 India & Asia
E: info@in.reproflex3.com Tel: +91 99209 94546.
Reproflex3 Middle East & Africa
E: info@ae.reproflex3.com Tel: +971 (0) 4 558 4511.
Reproflex3 New Zealand
E: info@nz.reproflex3.com Tel: +64 9 414403.
ZDue Italy – Reproflex3 Technical Partner
E: info@zdue.it Tel: 059 957711.
Pacificolor USA – Reproflex3 Technical Partner
E: sales@pacificolor.com Tel: 801 294 4455.