Reproflex3 Leads the Charge in International Markets at North East Business Awards Grand Final

September 29 2023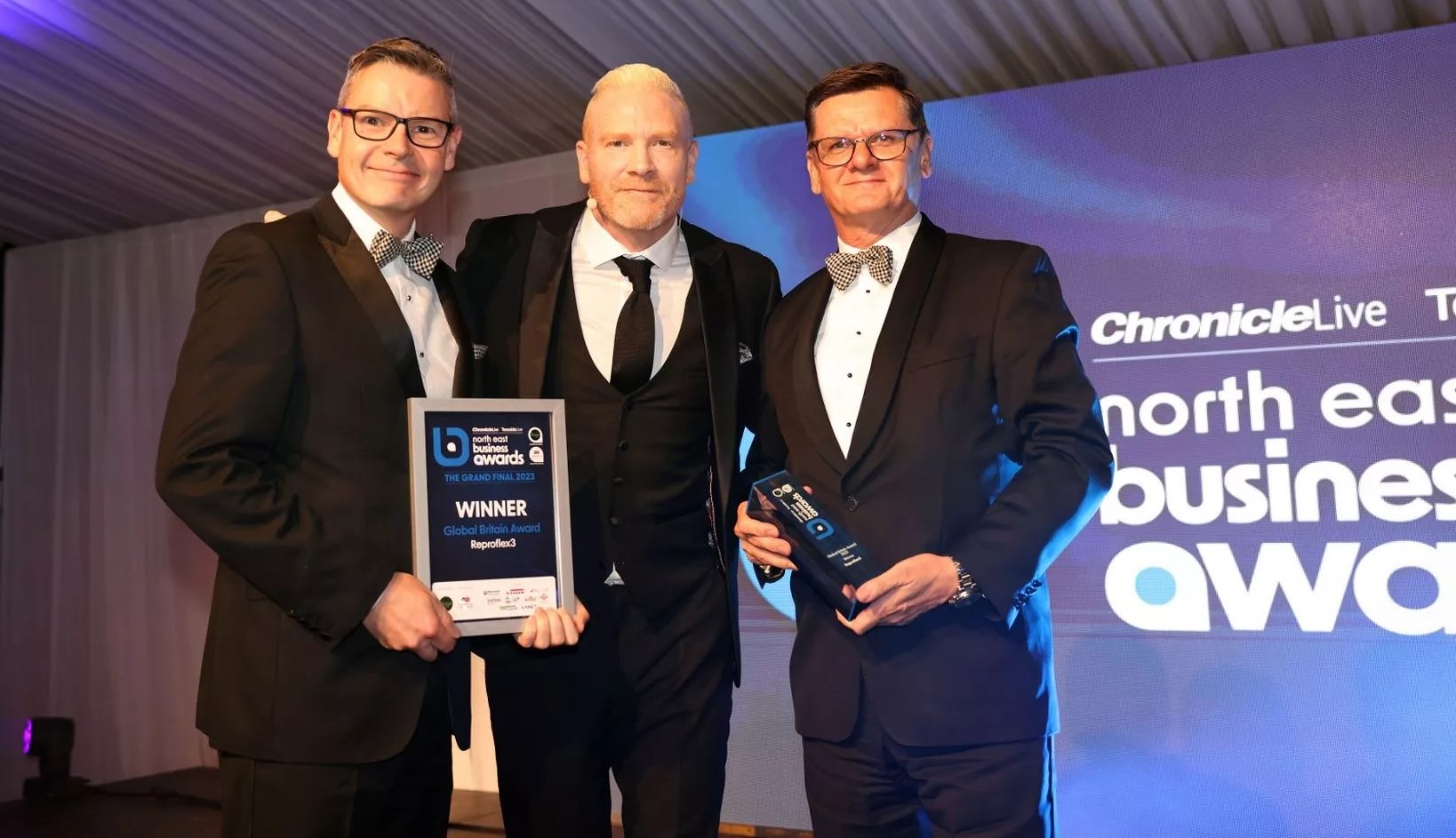 Andrew Hewitson R3 Group CEO with award host Iwan Thomas MBE and R3 Co-founder Trevor Lowes at the Grand Final of the North East Business Awards 2023.
In an evening brimming with anticipation and excitement, Reproflex3 emerged as the victor, clinching the prestigious Global Britain Award at the Grand Final of the North East Business Awards held at the historic Hardwick Hall in Sedgefield on 27 September.
With more than 300 people in attendance, the event showcased the resilience and innovation of North East companies. Hosted by Chronicle Live and Teesside Live, the North East Business Awards have long been a platform to celebrate the region's enterprising spirit and showcase the accomplishments of companies that have made significant strides in business and global commerce.
This year's event was particularly special, with Reproflex3 standing out among three other remarkable local companies, all of which demonstrated excellence in their international endeavours, to win the coveted Global Britain Award, for displaying an exceptional commitment to international trade, collaboration and innovation.
The Global Britain Award, one of ten categories, recognises companies that have successfully expanded their operations into international markets.
Reproflex3's achievements exemplify the vision of a 'Global Britain', where companies leverage their expertise, adaptability, and innovative spirit to compete on the international stage.
Upon receiving the Global Britain Award from Iwan Thomas MBE, Reproflex3 group CEO, Andrew Hewitson, expressed his gratitude and vision for the company's global journey, saying, "This award is a testament to the unwavering dedication of our incredible team at Reproflex3. We are immensely proud of our journey from a local enterprise to a global player.
"It underscores our commitment to excellence, sustainability, and innovation. We believe that every company, regardless of its size, can make a profound impact on the world stage. This recognition motivates us to continue pushing boundaries in international trade, proving that firms, whether large or small, can play a vital role in contributing to the vision of a Global Britain."
As times remain challenging economically and operationally, Reproflex3's journey to this remarkable achievement was characterised by dedication, strategic planning, and a customer-centric approach.
The company specialises in flexographic plate production and high-definition screening technologies, which play a critical role in the printing and flexible packaging industry. They have consistently demonstrated their commitment to delivering high-quality solutions to a global client base, cementing their reputation as a reliable partner in the sector.
Trevor Lowes, co-founder of Reproflex3, adds: "Our win at the North East Business Awards sends a powerful message to businesses of all sizes across the region. It demonstrates that with a clear vision, determination, and a commitment to excellence, even small and medium-sized enterprises can become global players.
"The other finalists deserve commendation for their impressive achievements in international trade. Their presence at the awards ceremony highlighted the wealth of talent and innovation within the North East business community, underscoring the region's ability to compete on a global scale."
Reproflex3 was launched in 1996 by Andrew Hewitson and Trevor Lowes and is headquartered in North of England. The company operates sites in the UK, Dubai, India and New Zealand and deploys its corrugated and flexographic print technologies through technical partnerships in the USA and mainland Europe.
The business employs more than 80 prepress specialists world-wide, delivering its services and multi-award-winning screening technologies into 20 countries.