August 16 2022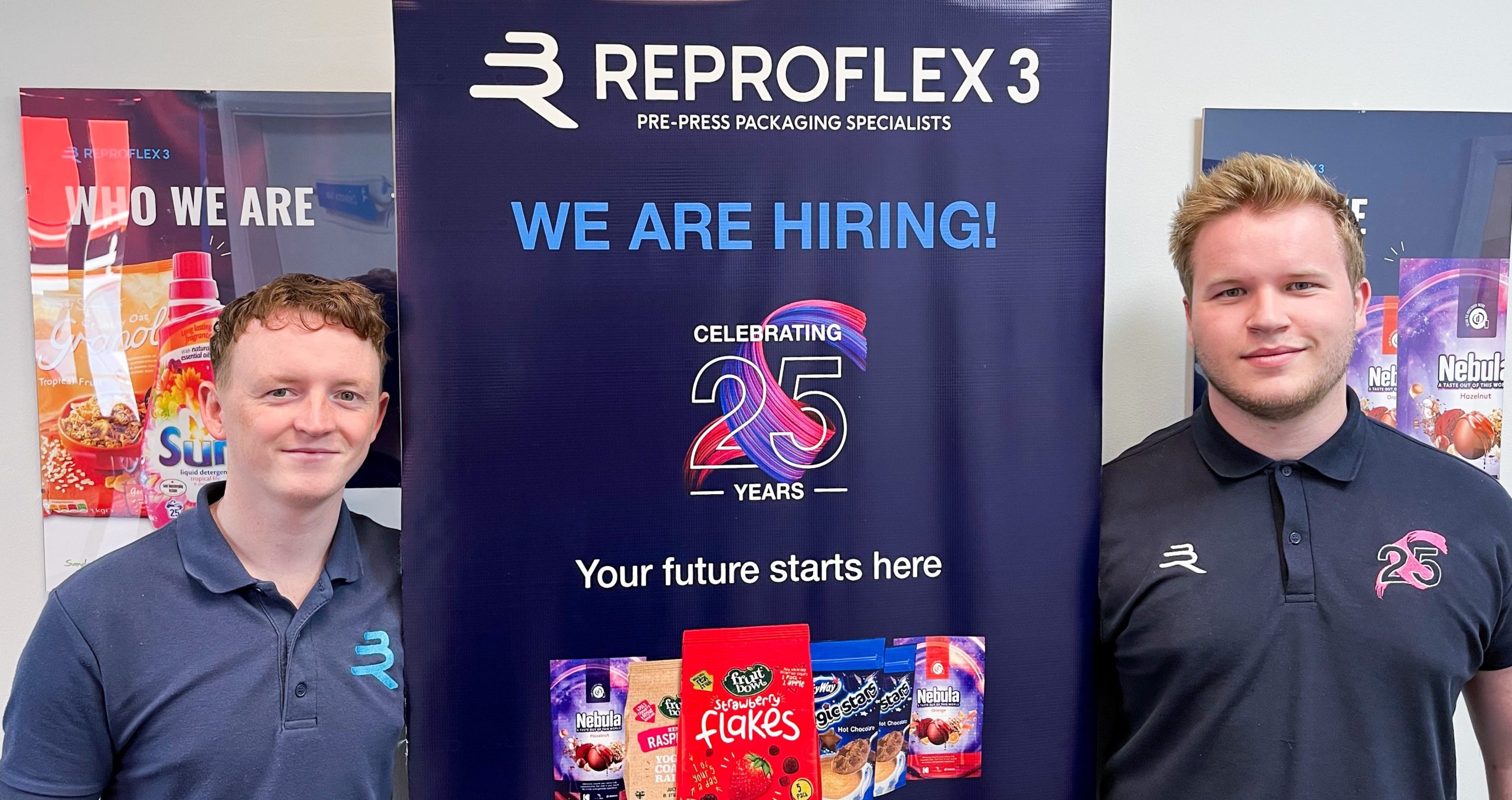 Are you a motivated individual already working in the flexographic print industry or seeking a brand-new career?
Following another period of rapid growth, we're on the lookout for a whole host of talent, from studio technicians, QC specialists and colour geniuses to client service professionals, IT staff and plate manufacturers.
We have a variety of entry level and experienced job opportunities for friendly, ambitious and creatively driven applicants to join our UK team based in the North East of England.
If you're an enthusiastic team player with a 'can do' attitude and a solutions-led approach to meeting client needs, why not send us your CV and we'll take a look to see if we've got a suitable position for you.
Reproflex3 is a global flexographic solutions agency, providing clients with high quality and sustainable packaging that makes an impact.
Every day we work with major brand owners and print companies using our multi-award-winning pre-press technologies to ensure their flexible packaging and branding looks its absolute best on shelf anywhere in the world.
We do this through our growing network of high-performance pre-press facilities and partners serving the flexographic print industry world-wide.
Harley Meadows, our Client Services Account Executive, has been with us since February 2020. He joined the team just before the Covid pandemic struck.
Describing why he thinks Reproflex3 is a great place to work and build a career, he said: "Whichever role you start in when you join R3, there are always opportunities to broaden your skills set by dipping your toe into other areas of the business.
"Client services is certainly a job for individuals that are confident communicators, comfortable speaking with colleagues, customers and suppliers alike. It's also a great role if you enjoy problem solving and tackling challenges.
"Every day is different; you never really know how your day will go when you walk into the office in the morning, which is the way of the print industry. It keeps you on your toes and there are always internal projects to get involved in. As a business, we're continually seeking to drive efficiencies, whilst improving our tools and services for our customers and partners around the globe.
"Being part of these projects and seeing the difference it makes to the success of our customers is always rewarding. It is also great to see our work regularly celebrated at print and flexo industry awards schemes around the world. Seeing and celebrating the achievements of our clients really makes the effort and commitment worthwhile.
"Everyone in the R3 team is friendly and driven and they are always there to help and support when you are challenged. We're fully focused on our tasks, but there is always time for a bit of banter. The team here is just one of the many reasons why I love working at R3."
Conor Aisbitt is a Pre-Press Studio Technician. He joined the company eleven years ago, aged eighteen as a press operator. Since then, Conor has progressed through various roles including quality control in platemaking and the studio. Today, at the age of twenty-nine, he's a very talented Mac operator.
Conor says: "I really enjoy my job. The industry is a fun one to be in and R3 is a great place to work. No shift is repetitive, every job I do is different. You're always learning, for example I have been an hp press operator, a Roland and LEF operator, a zund operator and plate QC, studio QC and now I'm a studio Mac operator. There are always opportunities to better yourself and the freedom to build a career at R3. We're a team, we trust each other to get the job done and your opinion and ability is valid and backed. I'm proud of every job I do."
To find out more, check us out at www.reproflex.com.
Email your CV to: joinus@reproflex3.com.
*Please note, that to comply with GDPR regulations as we develop our talent pipeline, we will only keep your details on file for 12 months.
Successful applicants will be contacted to discuss appropriate positions and next steps.
No agencies please.